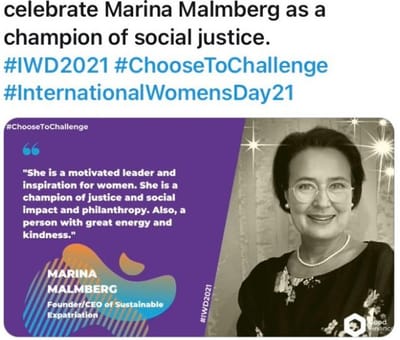 2007-2015
Backed up by Marina´s individual stress management experience, research and work practice with expat families since 2007, Marina identified specific unmanageable with traditional methods and resistant to cognitive therapy stress of unemployable expat spouses.
2016-2018
Marina started specific expat spouse support service, Success Boomerang, worked as a Swedish vendor & expat spouse support service provider for SIRVA International, USA, Nordic Relocation Group and Human Entrance relocation in Lund, Sweden, provided service for expat families from Region Skåne, European Spallation Source (ESS), Max IV. Marina liaised with C-suit corporate executives from Alfa Laval, Tetra Pak, IKEA trying to raise the awareness about the need to support expat spouses. Marina was approved to provide service to expat spouses of Apple employees in Malmo, Sweden yet faced challenges to find any work despite granted work permit for the spouse moving to Malmo, Sweden.
In 2016 Marina attempted to raise funds in Lund, Sweden, to establish an online Career Development Center for Expat Spouses who faced career loss at Sten K Jonsson Foundation, which was declined. In 2018 Marina helped NyforetagarCentrum Lund to raise funds for the first free business startup program for international academics, funded by Sparbanksstiftelsen Finn (100000 SEK) and co-developed and co-led the training.
2019
Marina finds academic proof of her professional and self-study findings at Copenhagen Business School (CBS). Co-leads the lecture about expatriation with Morten Skov-Carlsen, External Lecturer at CBS Dept. of Strategy and Innovation challenge for graduate CBS students at "Managing People in Multinational Corporations".
Full-time six months CBS graduate electives in "Business Responsibilities for Human Rights", CSR, Diversity & Inclusion Beyond the Borders (South -West), "Managing People in Multinational Corporations" and "GO to Market Strategy for Innovative Startups & Products in the Digital Era" - foundation for further academic research on Sustainable Expatriation.
Marina founded Sustainable Expatriation startup, taking a leap of faith in advocacy for human rights of expat spouses globally.
2020
Marina reached out to Ideon Innovation, Lund for startup funding, where she was told that Sweden has no funds for Marina's social innovation and that to raise funds Marina will need a male partner as a co-founder (to represent diversity). Malmo Stad demonstrated interest to fund Marina's social innovation, which was eventually denied due to the COVID-19 outbreak.
Marina engaged in several awareness rising opportunities such as:
Expat Karma 90 min future film initial script & visual board: Expat Karma
Outcast documentary 30 min with interviews exposing unseen life-long struggles of expat spouses denied work permits globally planned with a few global expat communities.
Sustainable Expatriation startup was selected for the European Business Angel Summit, Marina's project "Inclusive Economy for Marginalized Mothers" was published at the European Commission investment portal EIPP-20201762 and is still looking for the first soft funding.
Expat digital ecosystem "Tech for Good" 1st prototype developed: 360 Expatriation

2021
In the absence of funding for social innovation in Sweden, Marina connects with Jesper Valentin Holm, Dutch investor and startup CEO. In partnership with Jesper, remotely due to the COVID-19 pandemic, Marina registered the Sustainable Expatriation Foundation in Copenhagen in January 2021. Yet in March 2021, DanskeBank suggested Marina must physically move to Denmark to be authorised to lead the Danish Association. DanskeBank says bank account will take at least three months, informing Marina that position of Danish Chairman is impossible for her as a citizen of Sweden living in Southern Sweden, 30 min drive from Copenhagen.
Facing impossible conditions to lead an NGO in Denmark, Marina decides to liquidate the Danish Association and move her NGO startup to Hague, Netherlands.
Supported by the guidance from the Dutch Embassy in Sweden, Marina, within just a few weeks, remotely registered a Stitching Sustainable Expatriation Foundation in the Hague. Ambitions Sustainable Expatriation NGO startup qualifies for the bank account at ABN AMRO. Yet, continuous startup stress hits Marina after changing three countries in four months, remotely juggling work with the pandemic and relentlessly working without much-needed rest and funding. Marina takes the needed rest to restore her health and put the project on hold until autumn 2021.
2022 - present
Stitching Sustainable Expatriation is in the final stage of its incorporation in Amsterdam, Netherlands.
On January 24th, 2022 we have appointed four permanent Directors of the Board. Three of them are UBO of Stichting Sustainable Expatriation:
Marina Malmberg - Chairman, UBO (Åkarp, Southern Sweden)
Isabel Clarke - the Secretary, UBO (Amsterdam, the Netherlands)
Gerardo Greco - the Treasurer, UBO (Napoli, Italy)
Damjan Grozdanovski - Millennial Expatriation Director (Brussels, Belgium)
Marina, as a Chairman, remotely leads Stichting Sustainable Expatriation (SSE) with plans to set up an NGO branch in the Nordics and Pakistan to support corporations and recruitment struggling with inclusive diversity. We are also launching recruitment of remote interns and volunteers with serial expat background to support our development without management overwork.
Marina plans a travel to Pakistan to establish the first Chapter of SSE responsible for Asia & Africa in Pakistan.
We have begun fundraising preparation for two projects.
Firstly, a 30 minute documentary about expat spouse life globally and secondly, a book project "1001 Expat Spouse Tales for Corporate Investors and CEOs" with true serial expat spouse stories. Both projects will break prejudice about the expat spouse life, economy and unspoken situation of vulnerability.
SSE provides B2B, municipal and governmental membership for both businesses and states interested to remediate the past and help us to create a tangible remediation mechanism and safety net for expat women and their children globally.