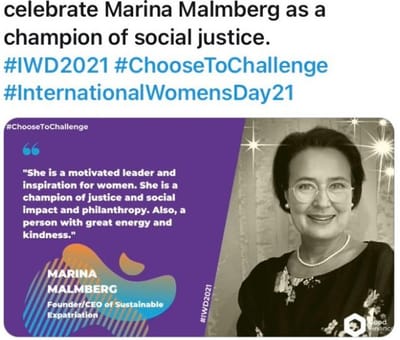 FROM SUSTAINBLE EXPATRIATON IDEA TO FOUNDATION:
2007 - 2015
Backed up by Marina´s individual stress management experience, research and work practice with expat families since 2007, Marina identified specific unmanageable with traditional methods and resistant to cognitive therapy stress of unemployable expat spouses.
2016 - 2018
Marina started specific expat spouse support service, Success Boomerang, worked as a Swedish vendor & expat spouse support service provider for SIRVA International, USA, Nordic Relocation Group and Human Entrance relocation in Lund, Sweden, provided service for expat families from Apple, Region Skåne, European Spallation Source (ESS), Max IV.
In 2016 Marina attempted to raise funds in Lund, Sweden, to establish an online Career Development Center for Expat Spouses who faced career loss at Sten K. Jonsson Foundation, which was declined.
In 2018 Marina helped NyforetagarCentrum Lund to raise funds, co-develop and co-led first business startup training program in English for foreign academics in Southern Sweden at Ideon Innovation in Lund.
2019
Marina finds academic proof of her professional and self-study findings at Copenhagen Business School (CBS) and presents for graduate CBS students on expatriation and its challenge at "Managing People in Multinational Corporations" program.
Full-time six months CBS graduate electives in "Business Responsibilities for Human Rights", CSR, Diversity & Inclusion Beyond the Borders (South -West), "Managing People in Multinational Corporations" and "GO to Market Strategy for Innovative Startups & Products in the Digital Era" - devoted to academic research.
Marina validated the existing gap and the need on the global market to create inclusive re-integration ecosystem for people in expat situation.
2020 - 2021
Sustainable Expatriation idea develops into pre-seed startup.
Marina was engaged in several awareness rising opportunities such as:
Expat Karma (copyright reserved 2021-2022) documentary outcast documentary 30 min with interviews exposing unseen life-long struggles of expat spouses denied work permits globally planned with a global expat community. Visual board developed.
Sustainable Corporate Expatriation (copyright reserved 2020-2022) MIT SOLVE application submitted.
Startup shortlisted for the European Business Angel Summit 2020.
Sustainable Expatriation startup was selected for the European Business Angel Summit, Marina's project "Inclusive Economy for Marginalized Mothers" was published at the European Commission investment portal EIPP-20201762 and is open for grants, subsidies , donations and soft funding.
360 Expatriation (copyright reserved 2021-2022) first prototype "Tech for Global Social Impact".
Foundation identified as the best organizational form to proceed with startup solving global issue of expat partner dependency.
Necessity of inclusive EU-level multilateral dialogue on the remedy to unaddressed global expat challenge of women in serial expat situation, affecting women's/mothers mental health, career development and economy is identified. The Hague is chosen as the best location for Sustainable Expatriation Foundation.
After relentlessly managing unfunded startup in COVID pandemic and transiting her work digitally from Sweden to Denmark and further to the Netherlands, Marina finds herself overworked and takes resilient pause to heal and re-think further development.
202221 May 2022
- Deed of Incorporation Stichting Sustainable Expatriation is signed and certified by Van Buttingha Wichers Notarissen in the Hague, Netherlands.

23 May 2022
- Stichting Sustainable Expatriation is registered in the Netherlands Chamber of Commerce/KVK, Nr. 86465007.
Marina Malmberg is appointed as a Board Director/UBO with pre-operational Chair voluntary role and is looking for the Dutch-based multi-stakeholder Board of Directors, representing corporate, municipal, healthcare, recruitment, INGO, legal and human rights sectors.
Marina maps out Circular & Sustainable Recruitment solution prototype with support of the global stakeholder in Nordics, interested in partnership with the Foundation for SDGs.
After establishing the Board, Marina plans to lead Nordic chapter of the Foundation, assisting the Board as an Advisor.