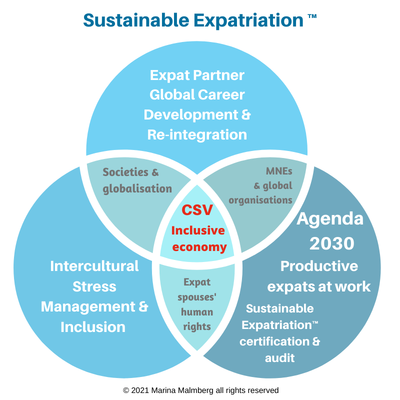 We develop and provide an innovative Sustainable Expatriation framework as a new benchmark for international organisations with the globally rotated employees, multinational corporations to launch inclusive Sustainable Expatriation process and incorporate it into SDGs Agenda 2030 in full compliance with upcoming Human Rights Due Diligence (HRDD), which will soon become mandatory in the EU.
In our pipeline, we launch online Sustainable Expatriation certification for business consultants, enabling the unemployed and unutilised international population of highly educated expats with intercultural competence to establish their businesses and become integrated into the workforce globally. Our first program will be in English.
Our deliverables to organisations aim to embrace social sustainability:
Plan and align with management actionable steps on how your organisation can embrace social sustainability in globalisation
Development of the certification of Sustainable Expatriation process in your corporate non-profit or organisation with employees who are globally rotated
Development of SDGs aligned with your organisation - Agenda 2030
Shared value creation for affected people, organisations and societies enabling those who might otherwise live in dependency to become working taxpayers, actively participating in society
Inclusive expatriate support through the entire process of expatriation, including repatriation
Suggestions on how to implement actions to ensure Human Rights Due Diligence in your global supply chain
Help with identifying those expat spouses who are affected and with preparing a plan of mitigation together with solutions to the problems experienced
Surely the lack of policies to support expat spouses and the major negative consequences that this group suffer for the rest of their lives are a major part of the reason why expatriate mobility is facing a decrease in retention, costing companies a fortune every time they have to replace just one key-expatriate?
Join us in building inclusive and Sustainable Expatriation for all
Grounded in Sustainable Development Goals (SDGs), a human rights framework, and 20 years of personal experience as an expatriate, Marina has developed a unique shared value approach for managing expatriates, former and present, a part of the inclusive economy which leaves no one behind, creating win-win outcomes for globalisation, for organisations, and for both people and economies affected by expatriation.