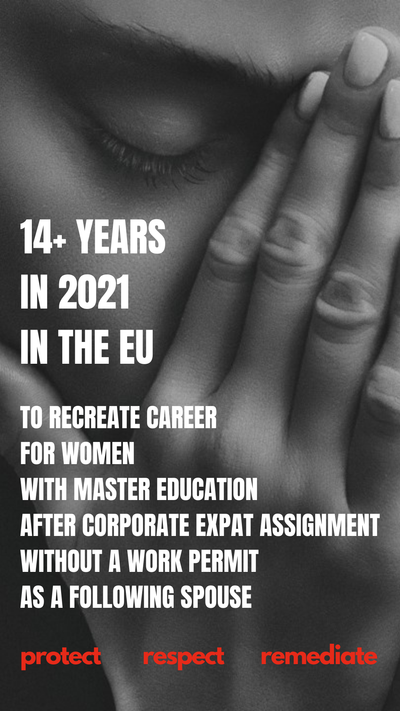 Stichting Sustainable Expatriation Foundation ("S.E.F.") is a new foundation established in The Hague, Netherlands, in April 2021. Our tech-enabled global social impact innovation project is registered in the European Commission investment portal EIPP-20201762 and is open for grants, sponsorship and funding.
Our mission

Our mission is to protect the human rights and health, exposed to the constant and life shortening stress of globally displaced dependent expat spouses and life partners of international assignees with the help of technology.
In 2021 many spouses, previously denied work permits, faced as a result of career gaps unemployability when repatriating, social and economic inequalities, system and systematic discrimination of their human rights and absence of tangible support. S.E.F enables mitigation and remediation of overlooked yet globally faced inequalities of expat spouses/life partners.
In 2021-2022 S.E.F. dedicates its primary focus to solving vast inequalities of mothers with children under 18 and widows with serial expat backgrounds who, despite intercultural and professional competencies, cannot find employment in the COVID era after career gaps yet hold unique intercultural competence.
This competence we aim to integrate into economic recovery with the help of technology and cooperation with business and governments.
S.E.F. provides global social impact and raising awareness of the vulnerable position of the expat population, with a special focus on historically discriminated female expat spouses.
We are aiming for consultative status within the UN, the OECD and the ILO to support the situation of expat spouses globally, primarily women, who end up unemployable due to the current unsustainable approach to expatriation from the national policies, prohibiting the dependent spouses from work, which violates universal human rights of women in many countries in 2021.
Dutch NGO
Permits Foundation
has created a world map, which illustrates how governments relate to spouses' situation.
There is no data available on the repatriation challenge as nobody is responsible in 2021 for the re-integration of intercultural talent left behind.
Our Foundation helps businesses and governments tap into overlooked value for the local economies and communities to revise existing policies and embrace human rights and develop sustainable policies and practices of inclusive diversity.
We are looking for a multinational business to support and co-create practical implementation of Sustainable Expatriation for business to advance CSR, justice, equality, diversity and poverty eradication of women.
Based on upcoming mandatory Human Rights Due Diligence, our innovation in social sustainability help create a much more equitable situation, ensuring the rights of expat spouses of all genders as an integral part of companies' work policies employing expatriate staff. Since the dawn of corporate expatriation, enterprises have accepted the denial of work permits to the spouses of their staff as a norm.
There is a complete absence of policies to enable highly educated yet unable to work women to reintegrate back into the workforce after years of sacrificing their careers to the global expansion of corporations. Such inequalities lead to personal disasters, life-shortening prolonged stress for women, broken families, inequalities for both women and children, operational and retention problems for business and organisations, and societies are missing tax payers.
As women, we had had no other choice if we wished to keep our families together than to accept conditions which have forced us into years of dependency, ending up marginalised, isolated from social and professional inclusiveness worldwide, and facing the hardest of challenges on repatriation.
Such unaddressed inequalities devastate the economic position of expat spouses of all genders who have contributed to the globalisation of the companies their spouses work for. In 2021 there is no solution, which leaves present and former expatriates without a pension plan, career development, re-integration support creating long-term continuous stress, which shortens lives.
Our Foundation aims to solve this global social fabric damage through partnerships for Sustainable Development Goals with businesses committed to social sustainability, women empowerment, inclusive diversity and shared value creation.